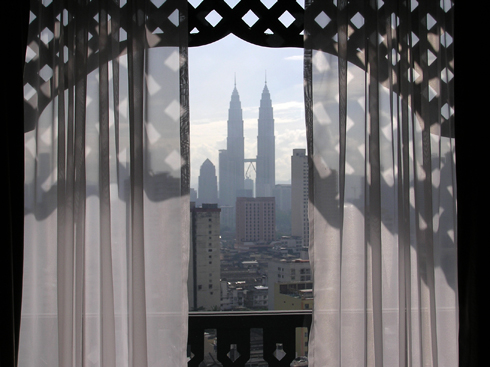 KLCC Petronas Towers from our hotel

In December 2005 I presented a paper at the Kuala Lumpur International Batik Convention on my recent experiments using soy wax as a resist. The paper is available as a low resolution pdf file (click here to download; 2.7 mb).
The Kuala Lumpur International Batik Convention 2005 was organized and sponsored by Yayasan Budi Penyayang Malasian, a non-profit organization committed to helping Malaysians "develop their potential as productive and responsible citizens through the provision of appropriate assistance."
The enthusiastic and charismatic CEO of Penyayang, Puan Leela Mohd Ali, pictured at right in elegant pink silk Malaysian batik, gathered together speakers from Malaysia, Indonesia, India, Sri Lanka, Japan, Australia, China, the UK, and the USA to present papers on various aspects of batik.
The Prime Minister, Datuk Seri Abdullah Ahmad Badawi,opened the gala festivities on December 9. His late wife, Datin Paduka Seri Endon Mahmood, had been a long-time patron of Malaysian batik and this first KLIB was dedicated to her memory. All sessions were held in the modern and spacious Kuala Lumpur Putra World Trade Center, which also hosted an exhibit of fine batik art as well as a vendors exhibition where one could purchase exquisite batik clothing, home furnishings, and other items from Malaysia, Indonesia, Laos, China, Singapore, and Sri Lanka.
We were treated to two sumptuous banquets, the last of which was attended by the Royal family and the Prime Minister, as well as by 1000 delegates to ASEAN.
One important outcome of the convention is the formation of the World Batik Council. This group, to be chaired by Leela Mohd Ali, will continue to advance the world-wide awareness of the art and business of batik.
My lasting memory of KLIB and of Malaysia is of an amazing energy, generous hospitality, and an enthusiasm for the art form of batik which is shared throughout the world. I am delighted to have been included in the conference and eagerly look forward to the next one in 2007.
—© 2005, DB Bowen
Click here to see more from the 2005
Kuala Lumpur International Batik Convention