My earliest memories are of the soft blue mountains which encircle the hillside home of my childhood. I can still recite their names in order:
Read, Tinker, Catawba, Little Brushy, Big Brushy.
Their reassuring presence was affirmed by the Bible itself, as we children memorized Psalm 121:1—
I will lift up mine eyes unto the hills,
from whence cometh my help.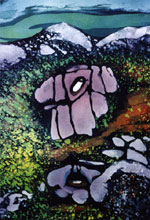 On the trail of our many times-great grandparents, we made our way through Argyll to Kilmartin, a valley inhabited by humans since Neolithic times. On the top of Dunadd, we stood by an ancient footprint and chalice carved in stone, where the Scots once crowned their kings.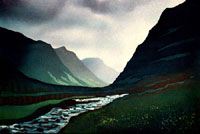 Once, I did a batik of the Crystal valley, and a man bought it because it reminded him of Glencoe, Scotland. Remembering that part of my family had been forced from Scotland in the 18th century, I vowed someday to see that place. When finally I was able to go, I found that Glencoe is indeed wild, empty, and fiercely beautiful. It did feel like our beloved Crystal Valley.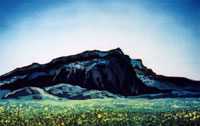 Many of these rulers of Dalriada are buried in the shadow of Dun I, over on the sacred Isle of Iona, where Colum Cille founded his monastery in 563 and where the Book of Kells was likely written. Did my ancestors include a few of those early Scots who came from Ireland, as well perhaps as some folk who were there to meet them? What of those others who came from Saxony— what mountains did they leave behind?
Such introspection has revealed a strong bonding to mountains, in a specific as well as a general sense. Now I understand why it has always been there where I looked for inspiration, for hope, for solace.
And why I cannot imagine living where the world is flat.
— © Dorothy Bowen
February, 2001

At twenty-one I left Virginia for New Mexico and settled by the Sandias — higher, drier, and more rugged than the Blue Ridge. Yet, from the north their silhouette is strangely like Catawba — still, in my mind, "the perfect mountain."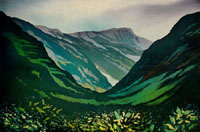 For over thirty years our hallowed mountain retreat has been a tiny Colorado ghost town. Crystal, at 9000 feet, is surrounded by craggy heights stretching up over 12,000 feet, the most prominent of which is Crystal Peak. Others I know by name: Treasure, Mineral Point, Meadow, Sheep.